Reimbursement for Business Use of Personal Vehicles
Study prepared for The Treasury Board of Canada Secretariat
By Corporate Fleet Services
1   Fuel Price Update Synopsis
Corporate Fleet Services (CFS) has been mandated by the Treasury Board of Canada Secretariat to perform the Annual evaluation of per-kilometre Reimbursement Rates for government employees that are required to use their personal vehicles while performing government business. Furthermore, the periodic impact of varying fuel prices is to be evaluated quarterly by producing three additional Fuel Price Updates per year. The present document represents the Update for February 2022.
The latest Annual study established Reimbursement Rates for each Canadian Province and Territory after performing a comprehensive analysis of all vehicle operating expenses. These rates were presented in the Reimbursement for Business Use of Personal Vehicles Report, dated November 2021 (for publication on January 1st, 2022).
The present Update reflects the impact of current fuel prices on the Travel and Commuting Rates' recommendations made in the Annual Report with a focus on average pump prices of gasoline by Province and Territory. The prices were averaged for each Province or Territory for the three months prior to the release of the current Update (the months of December 2021, January and February 2022). All prices are given in dollars per litre.
This Update also presents the latest recommended rates of reimbursement for consideration by the Treasury Board Secretariat in dollars per kilometre. Federal and Provincial sales taxes were also researched to determine if there were any recent changes that could have had an immediate impact on the total costs of vehicle ownership and operation.
For the period December 2021 - February 2022 fuel expenses represent 22.3% of the total cost of vehicle operation (reflected in the Travel Rates) or a Canadian weighted average of 12.2 cents per kilometre. The present Update identified minimal increases in average gasoline prices across Canada, which only had a slight impact on Reimbursement Rates. As a result, the Reimbursement Rates for the ten Provinces increased by a maximum of 0.5 cents relative to the previous Annual Report (November 2021, for publication on January 1st, 2022). For the Territories, while rates for Nunavut and the Northwest Territories remained constant, the Yukon Travel Rate saw an increase of 0.5 cents.
2   Fuel Prices
2.1  Energy Market Context
Over the past three months, global crude oil prices have been rising steadily, reaching their highest levels since 2014. Oil prices were at a three-month low on December 1st, 2021 when West Texas Intermediate (WTI) was at $65.57 USD per barrel and Brent stood at $68.87 USD per barrel. Since then, both have been on a relatively steady upward trend recording a period maximum on February 14th, 2022 with WTI reaching $95.46 USD per barrel and Brent $96.48 USD per barrel, an increase of 45.6% and 40.1% respectively. As of February 18th, 2022, the WTI stands at $91.07 USD per barrel and Brent is at $93.54 USD per barrel.
In general, gasoline prices have followed crude oil, however, the increases have been more moderate, with the Canadian average price for gasoline rising from $1.392 on December 7th, 2021 to $1.603 on February 8th, 2022 – an increase of 15.2%.
This report strives to provide an overview of the current market situation and present the latest estimates and forecasts pertinent to the energy market. Similar to previous reports, caution must be exercised when considering the data available due to the rapidly changing nature of global markets.
2.1.1  The Coronavirus Pandemic
A new Coronavirus variant – Omicron – emerged in late fall triggering renewed public health and mobility measures across many countries. The Omicron variant proved to be highly transmissible and, as a result, the highest number of cases since the beginning of the pandemic was registered on January 26th, 2022, when globally 4.06 million new cases were recorded in a single day. Since then, the daily case numbers have been on a steady decline. However, despite the high infection rates, this variant appears to result in less severe illness as well as fewer hospitalizations and deaths. As a result, over the past several weeks many countries, including Canada, have begun easing their Covid-19 related restrictions.
As of this report, 84.06% of Canada's eligible population has been fully vaccinated and the pandemic-related public health measures have a high level of support. Nevertheless, in January and February 2022, protests by several thousand of Canadians opposed to pandemic measures paralyzed parts of Ottawa for three weeks and blocked three border crossings with the United States. This led to the Federal Government invoking the use of the Emergencies Act to allow for additional powers in ending the protests.
2.1.2  Global Crude Oil Demand
According to the International Monetary Fund's (IMF) World Economic Outlook (WEO) Update from January 2022, the global economy is presently at a weaker position than previously anticipated, largely due to adjustments in the two largest economies – USA and China. Persistent supply issues continue to hinder global manufacturing and the emergence of the fast-spreading Omicron variant temporarily slowed-down numerous markets. 
In terms of the world economy, it is estimated to have grown by 5.9% in 2021 with the growth projected to moderate to 4.4% in 2022, which is 0.5 percentage points lower than the previous projection by the IMF published in October 2021. The global growth is expected to slow further to 3.8% in 2023. The trajectory of the pandemic continues to play a crucial role in the economic recovery. As noted by the IMF, "the forecast is conditional on adverse health outcomes declining to low levels in most countries by end-2022, assuming vaccination rates improve worldwide and therapies become more effective."
Growth in advanced economies is estimated to be 5.0% in 2021 and is projected at 3.9% in 2022 (a decrease from the 4.5% projection in the WEO from October 2021). The Euro Area grew by 5.2% in 2021 and it is now projected to expand further by 3.9% in 2022, a 0.4 percentage point downward adjustment due to prolonged supply constraints as well as COVID-19 related mobility restrictions. The downward adjustment in Europe is led by a markdown of 0.8 percentage points for Germany (now projected at 2.8% this year) that has suffered more severely from the supply chain problems and their effects on manufacturing.
The U.S. economy was very strong in the first half of 2021, growing rapidly and surpassing its pre-pandemic output level. The growth slowed in the second half of the year and the IMF estimates that the U.S. economy grew by 5.6% in 2021. In recent months, a number of factors have indicated a slower growth pace for the U.S. in 2022. The continued supply chain disruptions and delays with the passing of government expenditure bills have dampened growth projections. While unemployment has been low, the workforce participation rate remains below the pre-pandemic levels, resulting in businesses having a hard time finding employees which in turn has led to rising wages that are fuelling inflation. As a result, the IMF projects that the U.S. economy will grow by 4.0% this year, a sizable reduction of 1.2 percentage points as compared to the previous WEO projection from October 2021.
While overall the Canadian economy experienced a strong rebound in 2021 expanding by 4.6%, the growth rate projections for this year have seen reductions largely due to weaker external demand, primarily by the U.S. According to the Monetary Policy Review (MPR) published in January 2022 by the Bank of Canada, the Canadian economy is to grow by 4.0% in 2022 and an additional 3.5% in 2023. By comparison, the IMF projections stand at 4.1% and 2.8% respectively.
By the end of 2021, the Canadian labour market had returned to pre-pandemic levels both in terms of the participation rate as well as unemployment. As a result, businesses are having issues finding workers, which has led to a rise in wages. A survey conducted in the fourth quarter of 2021 by the Bank of Canada revealed that about 40% of firms reported having labour shortages that have restricted their ability to meet demand, a level recorded for the first time since 2007. In addition, Canadian businesses continue to face supply chain issues that have led to production slowdowns as well as delayed and cancelled sales. As noted by the Bank of Canada in the MPR from January 2022, the "overall effects of these supply disruptions are estimated to have been larger, broader and more persistent than initially anticipated."
Similar to advanced economies, the growth rate in emerging markets and developing economies has been revised downwards. While the growth in this group was strong in 2021 at 6.5%, it is expected to taper off to 4.8% in 2022, a slight downward revision as compared to the 5.1% WEO projection from October 2021. While India's outlook has improved from 8.5% to 9.0% for 2022, China's outlook has declined. Private consumption has been weaker than expected, the reduced investments in the real estate sector as well as disruptions related to China's "zero-tolerance" COVID-19 policy has led to the current estimated growth of 4.8% for 2022, a downward adjustment of 0.8 percentage points as compared to the WEO from October 2021. This follows a high growth rate estimate of 8.1% for 2021. Similarly, Brazil and Mexico are also facing much slower recovery rates. While Brazil grew by 4.7% in 2021, a fight against inflation has led to some government policy responses that have been dampening the domestic demand, leading to a very moderate 0.3% growth rate projection for 2022, a significant downward adjustment as compared to the 1.5% projection in the October 2021 report. Similar factors have played out in Mexico and accompanied by a weaker-than-expected external demand from the U.S. their growth rate projection has also been reduced from 4.0% to 2.8% for 2022.
Inflation across most countries continued to rise throughout the second half of 2021, driven by several factors of varying importance across regions. In general, high energy and food prices, as well as a strong demand for goods amid widespread supply shortages and bottlenecks, have driven inflation up around the world. Inflation is expected to remain elevated in the near term, averaging 3.9% in advanced economies and 5.9% in emerging markets and developing economies in 2022, before subsiding in 2023. In response to inflationary pressures, some central banks have already raised their policy interest (borrowing) rates, and others have signaled they plan to do so as well. When central banks raise interest rates this is likely to curb personal consumption and, in turn, reduce demand for gasoline. For example, in the U.S., the Federal Reserve has announced that it will taper asset purchases at a faster pace than previously planned and signaled that the federal funds rate (i.e. the borrowing rate) will likely be raised by 0.75-1.00% by the end of 2022. This is 0.5 percentage points higher, or twice as quickly than previously anticipated.
Similar to other countries, the Consumer Price Index (CPI) in Canada is elevated because of higher prices for durable goods, energy and food. The Bank of Canada forecasts that inflation will average 4.2% in 2022 before receding to 2.3% in 2023 – this would be close to the Bank's target rate of 2% and within the target range of 1% to 3%.
According to the Monthly Oil Market Report from February 2022, the Organization of the Petroleum Exporting Countries (OPEC) estimates that global oil demand was 96.65 million barrels per day (mb/d) in 2021 and is projected to grow by a further 4.2 mb/d to average 100.85 mb/d – a slightly stronger outlook than three months ago. The OPEC's reference basket price (calculated as a weighted average of prices of crude oil produced by OPEC countries) averaged $85.41 USD per barrel in January 2022, the highest monthly value since September 2014. It increased by 4.0% above October 2021 and 57.1% more than a year ago.
The IMF notes that the risks to the global economic recovery are tilted towards the downside. The uncertainty of the COVID-19 pandemic and possible new variants as well as the persistence of the supply chain issues, high volatility of energy prices as well as inflationary pressures, all carry risks that could further slow down the economic recovery. The raising of the bank borrowing rates pose additional risks associated with financial stability and, in addition, mounting geopolitical tensions bring another crucial layer of uncertainty (see the next section for details).
2.1.3  Global Crude Oil Supply
The return of strong global demand for oil has not been met by adequate supply. This has led to depleting oil inventories that have in turn applied an upward pressure on crude oil prices. According to the latest Short-Term Energy Outlook (STEO) published in February 2022 by the U.S. Energy Information Administration (EIA), non-OPEC production averaged 63.9 million barrels per day (mb/d), with total production averaging 95.5 mb/d in 2021, about 1.0 mb/d below the demand. The EIA forecasts that the production will increase to average 101.4 mb/d in 2022, exceeding demand and creating a surplus.
The Organization of the Petroleum Exporting Countries (OPEC) produce about 40% of the global crude oil traded internationally. In April 2020, the alliance along with several non-OPEC countries including Russia (referred to as OPEC+) implemented record supply cuts of roughly 10 mb/d or about 10% of the global supply in response to the dwindling demand caused by the Coronavirus pandemic. A year later, in April 2021, the OPEC+ coalition agreed to steadily increase crude oil production each month by adding 400,000 barrels per day (b/d). Nevertheless, some of the OPEC members, particularly Nigeria and Angola, have struggled to meet the group's output increase schedule. According to EIA estimates, during the last quarter of 2021, the OPEC countries subject to production targets produced less than those targets by a combined average of more than 0.6 mb/d. This has contributed to the depletion of inventories and the subsequent upward movement of prices. As a result, the coalition has faced pressure from other top producers, including the U.S. and India, to increase their production even further, but the coalition has repeatedly decided to adhere to the pre-established monthly increase schedule of an additional 400,000 barrels per day.
The U.S. has also been increasing its oil production over the past several months. Its output reached almost 11.8 mb/d in November 2021, a significant 21.7% increase from the 9.7 mb/d in May 2020. Nevertheless, production has not returned to the pre-pandemic level when the U.S. supplied nearly 13.0 mb/d in November and December of 2019. The U.S. EIA forecasts that production will rise to an average of 12.0 million b/d in 2022 and 12.6 million b/d in 2023, which would be a new record-high production on an annual average basis. The previous annual average record of 12.3 mb/d was set in 2019.
According to the EIA Short-Term Energy Outlook (STEO) published in February 2022, increasing demand and lagging supply has led to six consecutive quarters of global oil inventory draws, meaning that global oil consumption has exceeded global oil production since summer 2020. The commercial inventories held in the countries of the Organization for Economic Co-operation and Development (OECD) totaled 2.68 billion barrels at the end of December 2021, down by 16.5% from 3.21 billion in July 2020. This is the lowest OECD stock level since mid-2014. Crude oil inventory is important as it can work as a "shock absorber" for supply issues or a sudden rise in demand. Given that inventories are presently low, this "buffer" is also low and with the supply being tight as it is, the markets are pricing any supply-related risks very highly, thus pushing the crude oil prices further up.
While production in many countries has lagged, Canada has been ramping it up. Alberta set a new record, extracting 3.84 mb/d on average in October 2021 – about 2.7% higher than the previous monthly record set in January 2021. The latest reports indicate that demand for the heavy crude that Canada is producing is surging. Kpler data reported by Reuters indicates that Canadian heavy crude from the Gulf Coast is exported further, mainly to India, China and South Korea. The overall exports have risen significantly – averaging 180,000 b/d last year, up from about 70,000 b/d in 2019 and 2020. In December, export amounts of Canadian crude from the Gulf Coast reached 300,000 b/d. Unfortunately, production growth in the Canadian oil fields is still limited by the pipeline capacity to transport the crude. Although the Enbridge Line 3 pipeline was expanded twofold and the Capline Pipeline reversed flow to move more Canadian crude to the Gulf last year, significant long-term capacity expansion is still lagging. Some relief is expected for when the Trans Mountain Expansion is completed in the next year, tripling the capacity to deliver oil from Alberta to British Columbia and further directly to Asia-Pacific.
As the oil and gasoline inventories are low and the demand is exceeding supply, the markets are highly sensitive to any factors that could further affect supply. One such significant new factor impacting global crude oil prices in the last several months has been the geopolitical escalation between Russia and Ukraine. Russia is the third largest oil producer after the U.S. and Saudi Arabia and any disruption of their oil exports could cause even further tightening of the global oil supply. The progression of the tensions is expected to have a significant impact on oil prices in either direction (de-escalation could lead to a price drop, but further escalation could result in sanctions due to which Russia could curtail shipments, leading to an oil outage, pushing the prices even higher). This risk is priced in the current crude oil contracts and thus also has a direct impact on gasoline prices at the pump.
2.2  Gasoline Prices Across Canada
After a significant decline between September and November of 2021, gasoline prices, similar to crude, have been on the rise since early December, reaching record levels by early February 2022. This rise in prices is quite unusual for winter months as winter-grade gasoline is less expensive to produce than summer-grade. This year however, other factors have played a more important role in the fuel price hike. The rising crude oil prices, diminishing inventories as well as a generally strong demand, thanks to economic recovery enabled by easing of the public health restrictions in Canada as well as the U.S., have been applying a significant upward pressure on gas prices at the pump. In addition, geopolitical tensions in eastern Europe have also contributed to the price hike, particularly in the Eastern provinces, including Quebec and Ontario. In British Columbia, the prices have been pushed higher by a shortage of gasoline supply that resulted from a temporary shutdown of the Parkland refinery in Burnaby a few months ago. The refinery had stopped its operations due to a lack of crude oil supply from the Trans Mountain pipeline that was shut down for three weeks as a precaution following flooding and extreme weather in B.C. in November 2021. In addition, an unusually cold weather briefly shut down the same Burnaby refinery as well as a refinery in Washington State in December 2021, adding further pressure on gas prices in this Province.
As a result, Canadian average gasoline prices reached record levels in early February and have continued to remain elevated. Besides prices in Nunavut that are set at the Territorial level, as of February 11th, 2022, the three-month highest price has been recorded in Labrador City, Newfoundland and Labrador at 182.5 cents per litre and the lowest in Sarnia, Ontario at 117.7 cents per litre. Overall, a slight increase in three-month average gasoline prices has been observed across all Canadian Provinces and Territories, ranging from a 0.1% in Manitoba and Saskatchewan, to 4.4% in Quebec. The three-month average price for gasoline in Canada between the Annual Report (November 2021, for publication on January 1st, 2022) and the current Fuel Update (February for Publication on April 1st, 2022), has increased by 2.4%. In a year-to-year perspective, the three-month average price is 37.2 cents per litre or 33.8% higher than a year ago.
Prices of gasoline, in Canada, include all applicable taxes. Prices vary significantly across Canada, mainly due to the difference in the types and amounts of taxes being charged on fuel in different Provinces and Territories. The present Update calculated the average prices of regular gasoline charged at the pump. The fuel price data was primarily obtained from Natural Resources Canada via Kalibrate (previously Kent Marketing), based on daily published fuel prices for 78 locations across Canada. This data was verified against additional databases that similarly track fuel prices all across Canada.
Consistent with the methodology of the Annual Report, when determining average gasoline prices per Province or Territory, we have used weighted averages according to population in order to better conform to reality. In this manner, metropolitan population centers account for a greater portion of the total average price compared to smaller towns.
The following is a table with average regular gasoline prices for all Canadian Provinces and Territories, in dollars per litre, for the period December 2021 - February 2022:
Province/Territory

Current fuel price
($/litre)

Jan 1st, 2022 Annual Report fuel price
($/litre)

Price
change
($/litre)

Alberta

$1.373
$1.358

$0.015

British Columbia

$1.613
$1.582

$0.031

Manitoba

$1.364
$1.363

$0.001

New Brunswick

$1.440
$1.408

$0.032

Newfoundland and Labrador

$1.584
$1.568

$0.016

Northwest Territories

$1.525
$1.505

$0.020

Nova Scotia

$1.391
$1.384

$0.007

Nunavut

$1.120
$1.113

$0.007

Ontario

$1.437
$1.410

$0.027

Prince Edward Island

$1.416
$1.402

$0.014

Quebec

$1.525
$1.461

$0.064

Saskatchewan

$1.367
$1.366

$0.001

Yukon

$1.570
$1.559

$0.011
Fuel price data was extracted for a period of three months (November 15th, 2021 to February 11th, 2022) in order to reflect current gasoline price trends. Subsequent reports will focus on three-month periods following the period covered in the present study. Average gasoline prices per litre and per Province or Territory were found to vary between $1.120 in Nunavut to $1.613 in British Columbia, with a Canadian average of $1.474, an increase of 3.4 cents from the previous Annual Report (November 2021, for publication on January 1st, 2022).
Gas prices in Nunavut are typically set for a full calendar year and rarely exhibit any changes. At the beginning of February 2022 however, the Government of Nunavut announced a price increase of 8 cents per litre, effective February 6th, 2022. Since this increase only accounts for a small percentage of all readings considered for this Fuel Update, average prices in Nunavut only increased by 0.7 cents for the current Fuel Update as compared to the previous Annual Report (November 2021, for publication on January 1st, 2022).
For illustration purposes, Graph 1 displays gasoline prices for the main metropolitan areas for a one-year period (February 2021 - February 2022).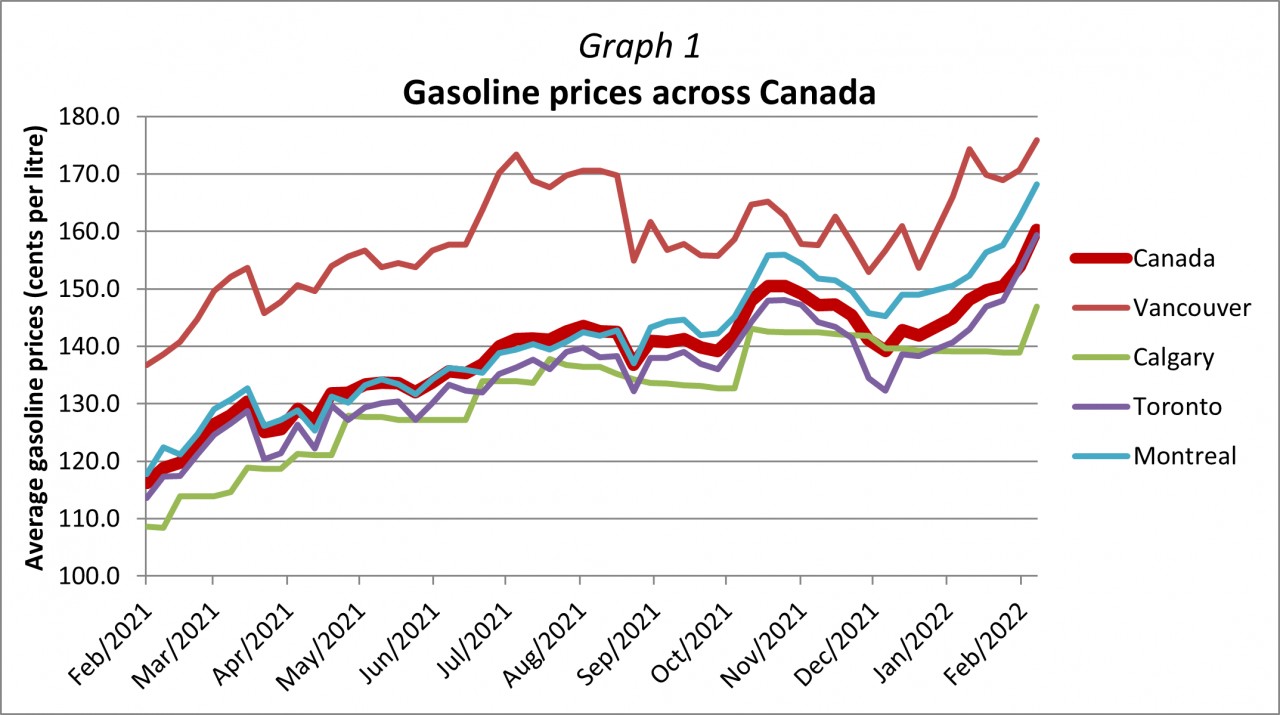 Also for illustration purposes, Graph 2 displays crude oil prices for three benchmarks – WTI (West Texas Intermediate), Brent and WCS (Western Canadian Select) for a one-year period (February 2021 - February 2022).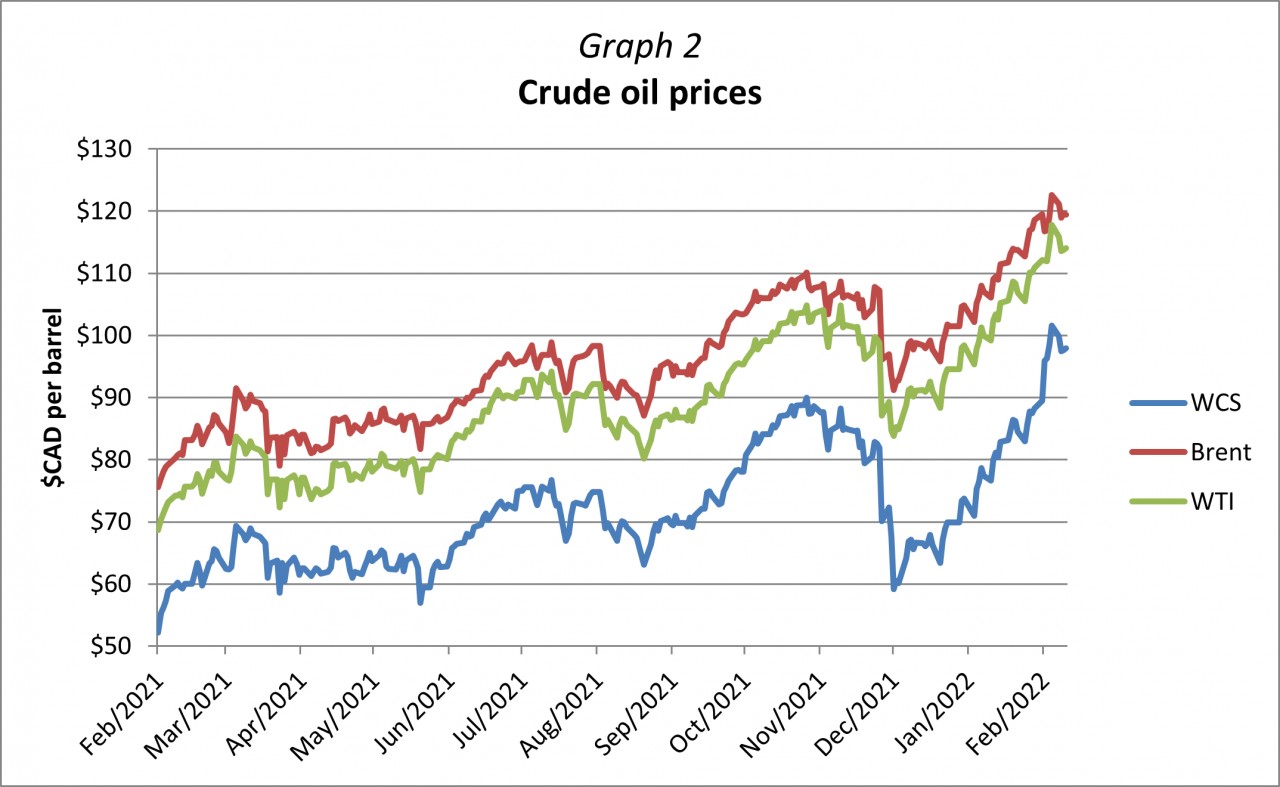 2.3  Sales Taxes
For the current Update, research was performed to see if there were any relevant changes to Federal and Provincial sales taxes that could have an immediate impact on the Reimbursement Rates. As of the date of this Update, no changes were observed in sales taxes anywhere in Canada as compared to the previous Annual Report. Moreover, no changes are foreseen at this time for the immediate future.
3   Impact of Fuel Prices on Reimbursement Rates
3.1  Fuel Consumption
In calculating the fuel costs contribution to the total vehicle operating costs, the methodology employed in the Annual Report was strictly adhered to. Fuel consumption for every vehicle model in the study was thus combined with average prices per Province or Territory to determine the fuel portion of operating costs, based on an average of 20,000 kilometres per year.
3.2  Updated Reimbursement Rates
For comparison, the following table provides updated Travel and Commuting Rates, as well as rates previously calculated for the Annual Report (November 2021, for publication on January 1st, 2022):
Current Fuel Update Reimbursement Schedule (in dollars per kilometre)
 

Travel Rate

Commuting Rate

Province/Territory

Current Fuel Update

Jan 1st 2022 Annual Report

Current Fuel Update

Jan 1st 2022 Annual Report

Alberta

$0.515

$0.515

$0.210

$0.210

British Columbia

$0.540

$0.535

$0.240

$0.240

Manitoba

$0.515

$0.515

$0.215

$0.215

New Brunswick

$0.550

$0.545

$0.225

$0.220

Newfoundland and Labrador

$0.580

$0.575

$0.235

$0.235

Northwest Territories

$0.620

$0.620

$0.295

$0.295

Nova Scotia

$0.550

$0.550

$0.220

$0.220

Nunavut

$0.570

$0.570

$0.250

$0.250

Ontario

$0.575

$0.575

$0.225

$0.220

Prince Edward Island

$0.535

$0.530

$0.225

$0.220

Quebec

$0.555

$0.550

$0.240

$0.235

Saskatchewan

$0.505

$0.505

$0.215

$0.215

Yukon

$0.605

$0.600

$0.300

$0.300

Note: All figures were rounded up to the nearest half-cent.
The impact of gasoline prices on the Reimbursement Rates was minimal for the present Fuel Update. In comparison with the Annual Report (November 2021, for publication on January 1st, 2022), the Travel and Commuting Rates either stayed constant or increased by a maximum of 0.5 cents per kilometre for the Provinces. For the Territories, the Travel Rates either stayed constant or increased by a maximum of 0.5 cents per kilometre, whereas the Commuting Rates remained constant.
Overall, Canadian weighted averages have stayed the same for both the Travel and Commuting Rates. They are now at 55.0 cents per kilometre and 22.5 cents per kilometre, respectively.
Fuel contributes on average 12.2 cents per kilometre to total operating costs, ranging from 11.4 cents in Alberta, Manitoba and Saskatchewan, to 18.2 cents in the Yukon. Given the complexity of socio-economic factors affecting the global energy market, it is difficult to make any prediction regarding gasoline prices for the next three-month period. However, any future changes will be reflected in the next Fuel Update.